CIM and CCMP's careers
Human Resources

Our HR Policy
The strength of our company lies in the women and men who work for it. Below, you will be able to learn more about our professions and hear from the people who make our company tick.
If you would like to be part of CIM and CCMP, we suggest you consult our job offers or send us your spontaneous application (French language sections).
Our Human Resources policy is in line with the company's undertakings in terms of security, quality and the specific professional expertise of our teams. Fulfilling these undertakings leads to the possibility of advancement within CIM and CCMP.
CIM and CCMP place particular emphasis on training their teams, especially as far as safety and security are concerned. CIM and CCMP devote more than 4% of their payrolls to training.


CIM-CCMP is a member of the French Association of Petroleum Industries (Ufip), an industry association for companies operating in France in one of the oil and gas industry's three major segments: oil and gas exploration & production, refining and marketing.
CIM and CCMP's professions
People Profiles
Meet some of the women and men who are the force behind CIM and CCMP and discover some of our professions by clicking on the titles below:
Director of operations
- Samuel Limousin / Le Havre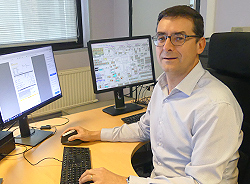 Director of operations in charge of planning
My name is Samuel Limousin and I joined CIM in April 2001.
Director of Operations and as such in charge of planning operations within the Le Havre and Antifer oil terminals.
Reporting to the Head of Operations, I schedule and organise operations in line with instructions received from our customers and draw up instructions defining the actions to be carried out by the shift teams. Our 24-hour operating schedule means that we have to draw up daily instructions. As a result, my job requires me to work weekends and public holidays according to a pre-established cycle. Because of the tasks assigned to me, I divide my time between office work and the field.
My main points of contact are:
externally, our customers and the various players in the Le Havre port world (Haropa Port Management, shipping agents, pilotage department, customs department, inspection companies) as well as our various customers.
internally, the works and health/safety/environment departments, to ensure that daily technical work on the facilities is carried out in complete safety.
After training in electrical engineering and completing a postgraduate course in technology and industrial management, I joined CIM as an electrical engineer.
My periods of integration and discovery within the company, particularly on shift work, enabled me to discover and appreciate the jobs associated with operating oil terminals. I then temporarily held the position of Shift Manager, before moving on to the position of Operations Manager. External training enabled me to deepen the solid foundations of the job, just as assignments within the safety department led me to broaden my field of expertise and follow the regulatory developments linked to the operation of a Seveso site.
My role is to listen to our customers and constantly adapt our logistics to meet their needs. Working with the Shift Manager, I carry out the operations required to meet customer orders, in strict compliance with quality standards and safety, health and environmental regulations. As an Authorised Economic Operator (AEO), we provide our customers with the expertise of the Customer Manager and her team in this area, and keep them informed of regulatory developments and the implications for their business.
The job of Operations Planning Manager requires qualities of management, rigour and organisation. I have to manage priorities in the light of customer requirements and work as part of a team.
On the strength of this wide-ranging experience and a keen sense of responsibility, I strive on a daily basis to meet the wishes and requirements of our customers.
Stevedore
- Julien Hils / Le Havre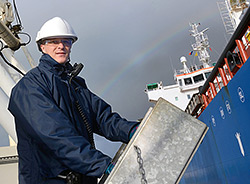 Shift wharf operator
My name is Julien Hils and I have been a CIM employee since 2006.
I am a shift wharf operator and, as such, I am the first point of contact between CIM and the berthed vessel.
I work under the Shift Manager. My duties consist in managing the loading and unloading of the vessel at the wharf, taking samples of products and ensuring that all operations comply with security, safety and environment management procedures.
I am present both when the vessel docks and during loading arm deployment; I control the comings and goings of personnel going on board the ship.
Working directly in the field, my job is closely related to the schedule of the Le Havre and Antifer terminals and I work shifts: from 7am to 7pm, or from 7pm to 7am.
Not only do I work alongside CIM colleagues, but also with people from outside the company: port officers, crew members, boatmen and pilots.
I joined CIM because it is a leading company in the Le Havre region.
It is important to be thorough, vigilant and understand all the procedures when carrying out the duties involved. Having first trained as an electrical technician, CIM was my first employer. In-house training given by CIM has enabled me to acquire the knowledge and skills of this profession and to put this into practice in compliance with Quality, Heath, Security and Environment management procedures.
Depot operator
- Cédric Guyon / Grigny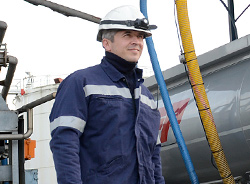 General operations agent
My name is Cédric Guyon and I have been working at CIM since 1996.
I am a general operations agent working under CIM and CCMP's Director of Distribution Depots and the Grigny Depot Manager.
The four key tasks in my job are to guarantee safety of both people and goods on the site, to ensure that customers have access to a continuous supply of products, to monitor quality within ISO standards and to make sure the facilities are correctly maintained.
I am based at the Grigny site and I work morning or afternoon shifts. Although I am a general operations agent, my core profession is in the control and maintenance of the site. I worked as a sub-contractor and enjoyed working in this field, so when an opportunity arose to work for CIM, I jumped at it.
Given the nature of our business, the main requirements of my job are to be meticulous and thorough.
After I was hired, on-site training proved to be essential especially with regards to security, the issues of which I was already aware due to my previous employment as sub-contractor at the site.
Head of Health, Safety and Security
- Kévin Cayrol / Le Havre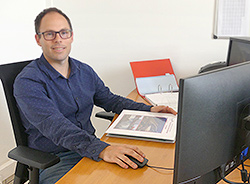 Head of Health, Safety and Security
My name is Kévin Cayrol and I joined CIM in 2006.
After working as an SSSE Technician and then as Head of the Safety Department until 2023, I am now Head of Health, Safety and Security.
Reporting directly to the Director of the Le Havre and Antifer Oil Terminals, my transversal role enables me to work closely with the company's other departments, namely Operations, Maintenance and New Projects, as well as Support Services.
As part of port security and the prevention of malicious acts, I am the 'Port Facility Security Officer', ensuring that security rules are applied in accordance with the ISPS Code (International Ship and Port Facility Security Code).
On a day-to-day basis, I supervise around fifty colleagues in two departments: the Security Department and the Day-to-Day Operations and Maintenance Department.
The Safety Department is responsible for a wide range of tasks at a high-threshold Seveso site like ours: preventing major risks, monitoring facilities, managing safety equipment and ensuring the site's safety by access control. My priority is to ensure compliance with safety and security rules, and the protection of people, facilities and the environment.
As for the Daytime Operations Maintenance Department, it carries out routine maintenance on the facilities and backs up the shift teams when necessary, in terms of both safety and operations.
On a daily basis, I combine office work with constant contact with the sites and the shift crews.
I also work closely with the government departments in charge of our activity, such as the Prefecture, the Departmental Fire and Rescue Service and the Port of Le Havre.
In my transversal role, working with the safety teams at the CIM and CCMP distribution depots, I am responsible for sharing feedback and best practices as part of our ongoing efforts to continuously improve our safety performance.
The position of Department Manager requires exemplarity, fairness, a human management style based on active collaboration with the teams and curiosity about all the activities of our terminals.
Working on a Seveso site like Compagnie Industrielle Maritime requires constant attention to detail and vigilance. This requires an acute sense of responsibility and a well-developed safety culture.
Shift Supervisor
- Guillaume Marical / Le Havre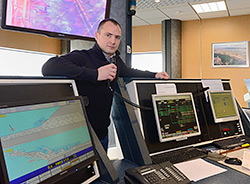 Shift Supervisor
My name is Guillaume Marical and I have been working at CIM since 1998.
I am a Shift Supervisor.
I work under the Operations Planning Managers and am in charge of a 30-man team made of up operations, security and technical services staff. My duties involve organizing the breakdown of different tasks and allocating these tasks to my team in order to ensure that operations run smoothly and are compliant with instructions given by the Operations Executive. I represent CIM on board the ships.
I also ensure, along with my team, site security and safety. Finally, in liaison with the human resources department, I participate in managing the skills of the staff I supervise.
I am based at the Le Havre Terminal and work a 12-hour shift, either day or night.
I mainly work in the control room, but I remain in permanent contact with people in the field. I am in direct contact with all CIM colleagues as well as people from outside the company but who work in the Port, such as the Harbour Master's office, the pilots, boatmen, shipping agents and inspection companies.
I wanted to be part of CIM because of its strategic importance in this sector in a region where the oil industry is a major component of the economy.
My arrival at CIM took place as part of a block release training programme when I was studying for an advanced technical diploma in electrical engineering. My career within the company has enabled me to train at a variety of technical and operational positions, including in management roles, all of which has meant that I can, today, hold this high responsibility job that requires dynamism and organizational skills.
Security Officer
- Mickaël Lefebvre / Le Havre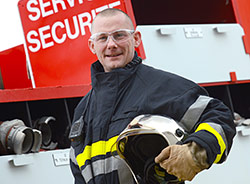 Security Officer
My name is Mickaël Lefebvre and I have been working at CIM since 2002.
I am a Security Officer.
I work under the Shift Supervisor, the Group Manager and Security Foreman and am part of a team that implements Health, Security and Environment management procedures. I ensure that safety regulations are enforced; as such I check that work sites comply with safety regulations in effect at the Terminals. I audit personnel from exterior companies under procedure improvement guidelines. I am also responsible for monitoring safety material and equipment maintenance.
The Le Have and Antifer Terminals operate 24 hours a day and 7 days a week. I work 12-hour shifts in a team, from 7am to 7pm or 7pm to 7am, and am mostly in the field.
I am in contact with the CIM teams as well as with employees from exterior companies.
As a volunteer fire-fighter, I wanted to join the security teams at CIM in order to pursue my vocation within a professional environment, in a company where the culture of security is deeply rooted and where the means made available enable me to correctly perform my duties.
A Security Office must be thorough, attentive and conscientious. My training as a volunteer fire-fighter was decisive in obtaining this job as Security Officer. Then, in-house and external training courses organized by CIM have enabled me to advance in my profession and acquire new knowledge and skills that have helped develop my career.
Quality Manager
- Marie Le Guennec / Le Havre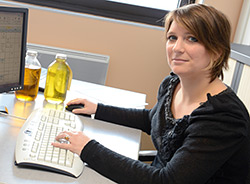 Quality Manager
My name is Marie Le Guennec and I have been an employee of CIM since 2009.
I am a Quality Manager in CIM's Port Terminals and Distribution Depots.
I report to the Director of each of these divisions. My role is, above all, to suggest improvements to the company's quality policy, and to ensure that this policy is communicated and applied at all levels. It is, therefore, my responsibility to organize, handle, coordinate and have expert knowledge of the quality system in order to be able to ensure its effectiveness and therefore ensure customer satisfaction.
My job involves 4 activities:
Operational quality: in coordination with the different division managers, it is a question of identifying and assessing the risks affecting product and service quality, and defining the actions necessary to prevent or correct these risks;
Product quality: this involves monitoring best operational practices and ensuring that product quality is maintained through analysis;
The third activity, which is essential in the successful performance of a quality system, is coordination and communication. This involves training personnel and communicating the company's "Quality" values.
Finally, there is what we call "quality assurance": this means managing and improving the quality document system, keeping the applicable statutory texts up to date, scheduling and managing internal audit activities, and monitoring preventive and corrective measures. This falls within the scope of ISO 9001 certification.
Although I am based at the Le Havre Terminal, I sometimes travel to CIM's other sites. I am in contact with a large number and variety of people:
In house, I work closely with all the divisions;
Outside CIM and CCMP, I am in contact with customers and certification organisations.
A Quality Manager must be organized, thorough and convincing and it helps to have good people skills and a developed sense of analysis and an ability to see the big picture. It is also necessary for a quality manager to have varied and diverse knowledge and skills because the job covers transverse fields.
My higher degree in Quality Management associated with the vocational training that I have received since beginning my career have enabled me to acquire extensive knowledge of standards and quality tools as well as management and communication skills.
Experience acquired in other companies also plays a role in on-going improvement, which is one of the cornerstones of the ISO 9001 standard. I am able to draw on the best practices used in these other companies.
I chose to join CIM as its senior management has made a major commitment to quality and is involved with and encourages quality measures on a daily basis within the company.
I am also attached to the enrichment that working with such diverse sites brings as well as this large company's people-friendliness.
Works
Engineer
- Inspection/Projects
- Laurent Fourreau / Le Havre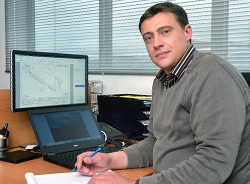 Works Engineer – Inspection/Projects
My name is Laurent Fourreau, I joined CIM in 2014 and I report to the Works Department Manager.
I am responsible for the monitoring and maintenance of pipelines, tanks and mechanical equipment.
My main tasks include guaranteeing the availability of equipment, carrying out the monitoring and maintenance thereof and completing projects to develop the production facilities.
This role includes monitoring and preventive maintenance tasks and intervening during technical stoppages.
All of these tasks are performed in connection with a number of external companies, where interpersonal aspects, at a technical and commercial level, have an important role.
Working at an upper-tier Seveso II site requires vigilance and sound coordination with the Safety Department so as to ensure compliance with Hygiene, Security, Safety and Environmental constraints.
Regular contact with administrative authorities also ensures compliance with regulations in the context of technical directives and building codes.
Having trained as an Engineer at Arts et Métiers ParisTech, I have primarily held the role of Project Manager on behalf of customers, with a strong emphasis on human, technical, economic and organisational aspects. The combination of these activities, performed within a variety of industrial sectors, represents a major advantage which today enables me to carry out the direct and cross-functional tasks related to my role at Compagnie Industrielle Maritime.
Today, as a result of its strong maintenance and development investment policy, CIM allows me to complete the projects entrusted to me while guaranteeing high-quality services and compliance with deadlines and safety regulations.
Job offers and recruitment